A pharma giant recently overcame its supply chain security and inventory management challenges and optimized their logistics using the power of real-time logistics visibility. This company, which is one of the 20 largest pharma brands in the world and was ranked #1 in Access to Medicine Index, ensured product availability at each of its retail locations without overstocking at any of its 30 distribution centers in the region by using a robust pharma inventory management system. It achieved lean resilience by building an On-Time, In-Full (OTIF) delivery process across 10,000 shipments serviced by more than 11 transport partners using door-to-door shipment monitoring. Here's the story of how they made it happen!
This article aims to highlight the importance of a battle-tested pharma inventory management system. The pharmaceuticals industry is continually grappling with loss of shipments, theft in consignment, and demand and supply fluctuations. A pharma inventory management system helped the pharma giant to minimize its losses and manage inventory better.

The Challenge: Drug Theft & Inefficient Pharma Inventory Management
The problem began when this pharma major noticed a drug security issue in its South Asian market.
A full-truck load (FTL) was hijacked every year out of the 10,000 shipments dispatched. In the world of pharma, theft is a serious issue, because it not only leads to loss of materials but also has a direct impact on human lives. Most of the drugs that are hijacked are often used to manufacture spurious contraband. This means that the drug manufacturer often faces legal repercussions and in addition to a downfall in brand reputation.
Vaccines were specially at risk for this pharma major because maintaining the right temperature would never be the hijacker's priority.
Every time a theft occurred, the pharma major had to blacklist the goods across its retailer networks and invest in a series of countermeasures to ensure the spurious drugs do not re-enter the market.
In addition to the theft problem, they were always in a dilemma about whether to run with ample buffer pharma inventory across their 30 distribution centers or move to a lean supply chain model. They wanted to run lean and save on inventory holding cost and working capital, but they did not have predictability of the arrival of transit inventory which increased the risk of stockouts.
As a manufacturer of generics too, this pharma giant fought a battle to keep both cost and availability optimal to maintain their competitive advantage in a price-sensitive market like Asia.
The problem of theft compounded by stock management issues caused significant brand and financial impact. They had to get control over their logistics, and visibility of their shipments was the logical place to start. In a bid to find the perfect pharma inventory management system, the company tried various tracking systems; let's take a look at what worked for them.

They Tried GPS Vehicle Trackers & Visibility Aggregators Unsuccessfully
The pharma major knew that visibility of shipments could solve the challenges of theft and inventory optimization across their 30 distribution centers serving the South Asian market.
They began experimenting with the most common solutions that were available to track a shipment.
The GPS Vehicle Tracking Experiment
They explored installing fixed GPS vehicle trackers on the trucks that their transport partners used to ship their goods and launched initiatives mandating each of their 11 third-party logistics (3PL) partners to track their trucks.
However, this did not work out as their 3PLs hired trucks on demand from the market and visibility services were not being part of their core logistics offering.
These experiments went on for more than three years and at the end of it, less than 10% of the transport providers had GPS trackers installed on their trucks. Further, the data was not reliable nor accessible on a single pane, which meant it wasn't actionable.
Leveraging Visibility Aggregators
Visibility aggregator solutions also did not work out as this pharma company needed granular visibility into routes, night-time halts, and chain of custody even on trans-shipments to manage drug theft.
Visibility aggregators rely on transporters for GPS or ELD tracking data and thus cannot provide the coverage expected for a pharma major that wishes to monitor 100% of its shipments door to door.


Then Came Roambee
The pharma major realized that they needed first-hand visibility into their shipments without relying on transporters or existing GPS/ELD devices on trucks, so the project could scale to 100% of their shipments.
They approached Roambee!
Roambee devised a multi-pronged approach to put the control back in the hands of the pharma company.
Roambee used wireless sensors "Bees" to monitor the shipments' location and condition without relying on any of the transport vendors.
Roambee used real-time signals to prevent night-driving (between 11am to 5pm) in risk-prone areas that were heat mapped through customer inputs and pattern analytics.
Roambee used live location data and analytics to accurately estimate the time of arrival (ETA) to all thirty distribution centers about incoming stock with their pharma inventory management system.
But were these theft warning signals and ETA delay predictions enough?
No! Every time the ETA was not on track or a risk of theft was detected, they needed a team to stay on top of things and avert a disruption.
Roambee thus leveraged BeeCentral 24x7, a data-driven control tower team, to act upon suspicious truck movements or ETA delays. It used pre-determined protocols for response action to bring incidents under control before they escalated.
Upon successful implementation, the Head of Distribution & Infrastructure of this Pharma giant (name concealed upon request) said,
"Roambee's on-demand solution, along with the complete management of the Bees' forward and reverse logistics, helps us get visibility across all the shipments without relying on our transport vendors. The control tower service does not just warn us about possible security threats or SLA impacts in real-time; it acts as our first line of defense in normalizing disruptions and maintaining optimized inventory at all warehouses to serve our patients better."
The Outcome: Safe & "Always" Available Medicines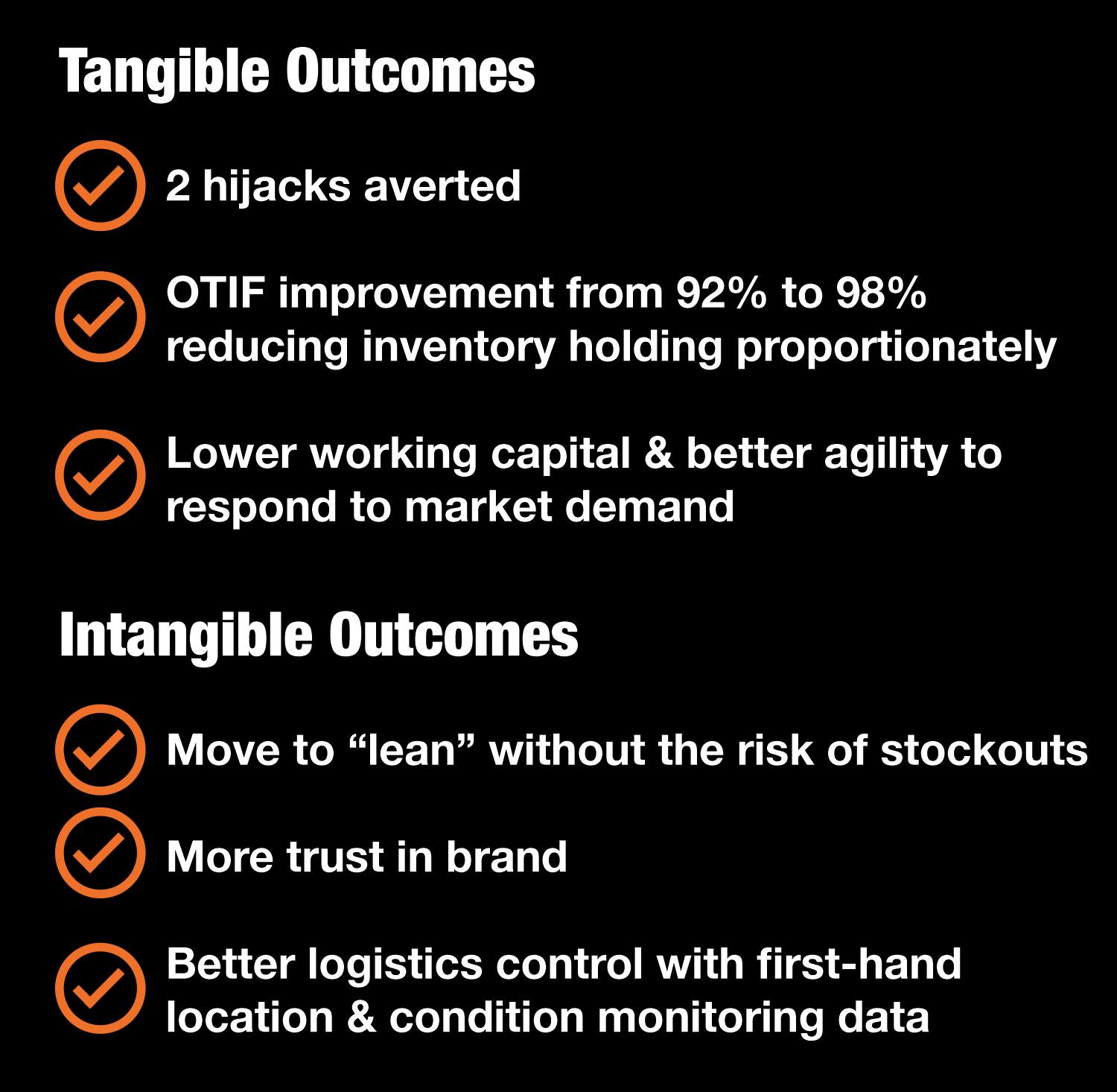 With real-time visibility across 100% of their primary distribution network and a 24x7 control-tower responding within minutes of an anomaly, the pharma major has prevented 2 hijacks altogether in the last 3 years.
They have almost entirely eliminated the problem theft by arresting night-time movement of shipments, especially in risk-prone areas using predictive analytics. Even when an incident did occur, they had complete traceability to initiate response action in the area of risk.
They have further implemented a Just-In-Time (JIT) model through better on-time, in-full (OTIF) compliance, ensuring that their patients are never out of supply while running lean on stock. In the South Asian market where the average inventory of pharma is 231 days, they're gunning to move much closer to the best-in-class global average of 117 days.*
By combatting the supply chain challenges that plague the pharma industry, using the power of visibility, data, and analytics, they have become more competitive and have retained their preferred brand status with patients, doctors, hospitals, and pharmacies. It demonstrates how a pharma inventory management system helps in curbing pharma supply chain issues.
This blog is also featured on Supply & Demand Chain Executive (SDCE).