JIT inventory and lean manufacturing make financial sense, but they leave businesses more vulnerable to unexpected disruptions and supply shocks because the bulk of inventory will always be in-transit.

In-transit tracking is key to managing inventory, and ultimately, running a profitable business.

The world has experienced a seismic shift in manufacturing and trade over the past few decades. There have been changes in trade policies, advances in manufacturing, labor cost arbitrage, and an almost universal adoption of Just-in-Time (JIT) manufacturing in order to reduce inventory carrying costs and tied up working capital.

Although it's led to drastic improvements in supply chain cost efficiency, it has also led to an increase in the percentage of inventory in transit — and at risk.

Inventory on the move is at greater risk of delays, damage, or theft, which makes poorly managed JIT operations a sure-fire recipe for supply chain disruption.

Whether it's buffer inventory, decoupling inventory, pipeline inventory, or anticipation inventory, organizations need complete visibility of whatever's on their books — both in-store and in-transit — to make businesses operations more robust. Businesses need to manage their inventory diligently because a large part of their working capital is tied up in inventory on the move.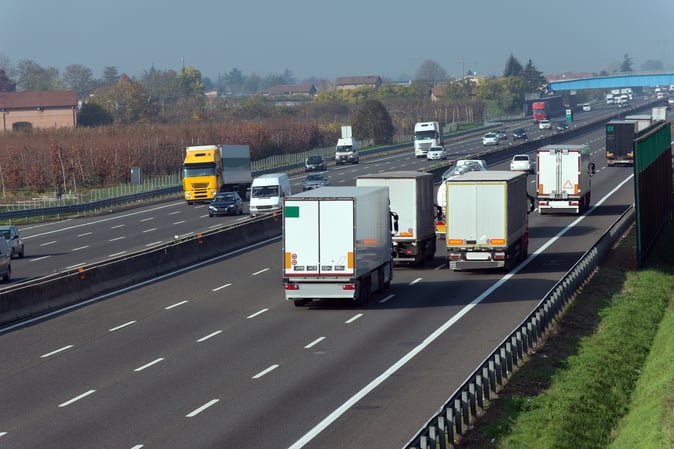 Inventory tracking & inventory visibility shouldn't be limited to numbers either.
Several products are sensitive to environmental conditions such as temperature, humidity, pressure, or physical shock in transit. Some require special handling by trained personnel in order to reduce the risk of damage while handling or in transit.
The risks for high-value goods aren't just quantifiable in terms of replacement costs, reshipping costs, or cargo insurance, it also includes the damage that a stockout or incomplete shipment could have, both to operational overheads as well as the cost of maintaining working business relationships.
Although there's no shortage of JIT inventory systems, tracking tools, and methods, it's a daunting task to keep track of shipments on the move. The usual modes of transfer — intermodal channels, less than truckload (LTL) and LTL load-mixing, and third-party logistics service providers — leave companies with little to no idea (much less control) about delays, variations in routes taken, or the conditions in which their goods are handled and delivered.
The risks — both seen and unseen — can negate the ROI from going lean.
Mitigating In-transit Risk
It's easier to manage and reduce risk if you've got a clear idea about what's going on with your goods or inventory in transit. Step one to effective inventory management — whether it's in the warehouse or in transit — is always inventory tracking.
Several well-established inventory tracking methods and technologies for the warehouse have evolved into wireless inventory tracking solutions that can extend the same visibility to goods on the go.
Low-cost GPS tracking devices that can stream constant updates about the location and condition of goods in transit have made it easier to monitor inventory on the move, which makes end-to-end supply JIT inventory control more organized and seamless than it's ever been.
It doesn't matter if you're tracking containers, FTLs, LTLs, SKUs, or individual items as they move between facilities or modes of transport, wireless inventory tracking tags can keep you abreast of any changes in a shipment's status and likelihood of making (or missing) its window of delivery.
Live location and condition updates, predictive ETAs, alerts about detours and possible delays, these are just a few of the newest tools in the arsenal of the modern-day inventory manager, all of which can work out of a web browser and integrate easily with existing inventory or warehouse management systems.
The updates and analytical insights that modern shipment and inventory tracking tools provide can help increase predictability and control in operations, giving shippers the means through which they can manage disparate logistics operations, keep tabs on their third-party transport providers, and manage timelines for inventory dispatch and delivery.
Need to manage in-transit inventory better and reduce the risks associated with JIT deliveries and lean inventory?